Summer magic on the alpine pastures
Hiking on the Lüsner Alm

The Kreuzwiese / Lüsner Alm is a true mecca for hikers and nature lovers. During a holiday on the alpine pasture in South Tyrol, the picture-book landscape of the Eisack Valley is literally at your feet. Numerous hiking trails cross the Lüsner Alm and offer everything you could expect from a successful hiking holiday in the Dolomites.
The Kreuzwiesenalm is characterized above all by the varied landscape composition. It goes, for example, by overflowing meadows and through dense forests up to the imposing Peitlerkofel massif. Stitched with warped and rustic mountain huts, grazing cattle herds and friendly shepherds, you feel as if time had stopped here.
Hiking holiday in South Tyrol
Hiking on the Lüsner Alm

A hiking holiday in South Tyrol is the perfect setting on Kreuzwiese / Lüsner Alm. Simple tours, without great differences in altitude, characterize the hiking experience on the Lüsner Alm, a paradise for young and old alike. Due to the optimal location of Kreuzwiese hut, you have the choice between relaxing walks, extensive hikes and demanding trekking tours.
From Munich to Venice
The long way through South Tyrol

The Lüsner Alm and the Rodenecker Alm are located in the middle of the legendary long-distance trail through South Tyrol, which runs from Munich to Venice. Our alpine hut is an important stopover, for those who have made this great tour. Most often you walk it in 28 stages and you will travel through the most diverse landscapes for around 500 km.
Alpine hiking in all facets
from our hut front door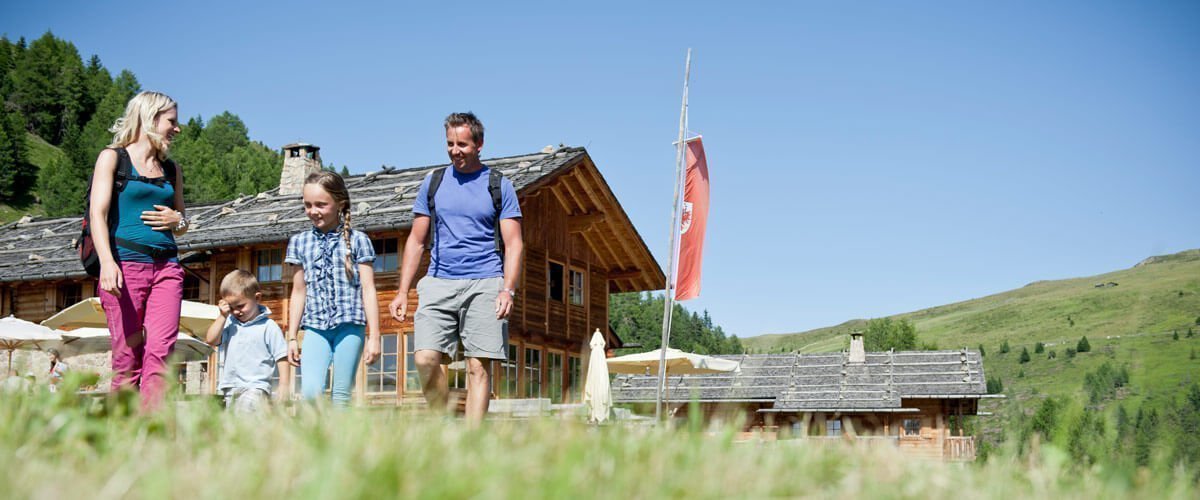 When hiking in Lüsen, you will find varied natural beauty. Are you attracted by a peak? Do you want to enjoy the impressive Dolomite panorama, walk with the family and even go with the baby carriage along beautiful paths? Or make a hearty hike tour over the Lüsner Alm? All this is possible with us. To go hiking you can start directly from our doorstep. Go on a huts-hike along the sunny slope of the alp, visit the Glittner See, in whose clear water the Peitlerkofel mirrors, hike over the old hayrails from the Kreuzwiesenalm to Gargitt and climb the Jakobstöckl (2,026 m), the Campill 2,190 m) and the Astjoch (2,194 m).
On the mountain bike
over the Lüsner Alm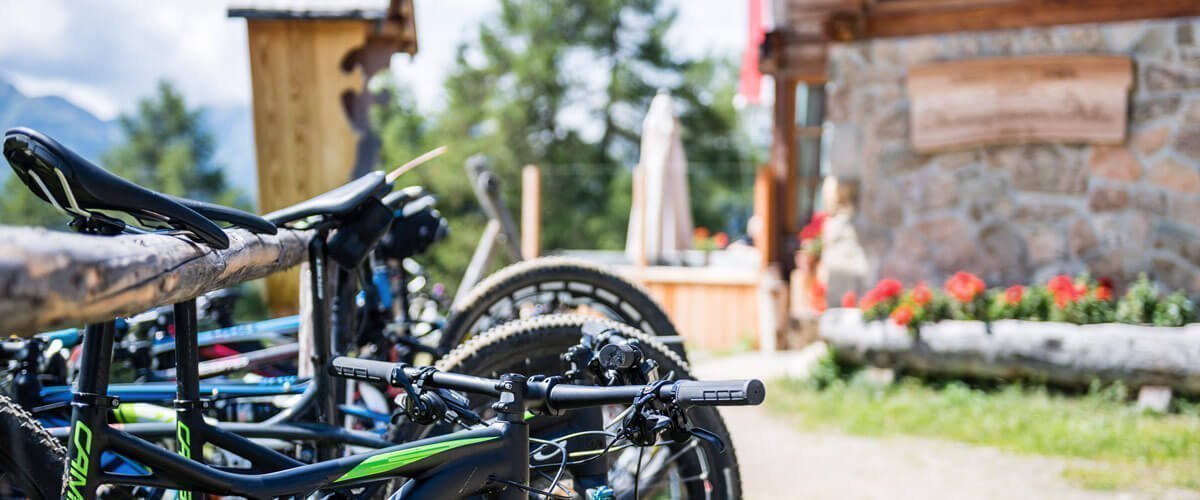 Even mountain bikers will find everything their heart desires during the holidays on the alpine pasture in South Tyrol. Absolute highlight is surely the mountain bike path, which also leads from Munich to Venice. Other transalpine tours also cross the Lüsner Alm and make the Kreuzwiese hut a perfect destination. A hiking holiday on the Lüsner Alm in South Tyrol therefore offers many exciting and wonderful moments for you. Enjoy pure deceleration, vitality and lots of fun!