Enjoy a delicious meal
at the Kreuzwiese hut

The cuisine of South Tyrol is known for its seasonal and vital dishes. In the Kreuzwiese hut, guests can pamper themselves in a cozy atmosphere. Experience the vitality of the South Tyrolean cuisine, the sparkling lightness of the local wines and the cheerful sounds of our concertina virtuosi. The cook and inn keeper Martha will take you on a culinary trip, where you will get closer to South Tyrol!
Traditionally conscious cuisine
at the Kreuzwiese hut

Characteristic for the vital and hearty food of the hut is the use of farm products. Crunchy vegetables from our own garden, fresh meat from our own agriculture and dairy products from our own cheese dairy turn each dish into a feast for the taste. Martha can pick from an embarrassment of riches and conjure delicacies to the guests, which cannot be fresher! Each dish is traditional, but contemporary and prepared with lots of love.
The Kreuzwiese's cuisine
delights on the alpine pasture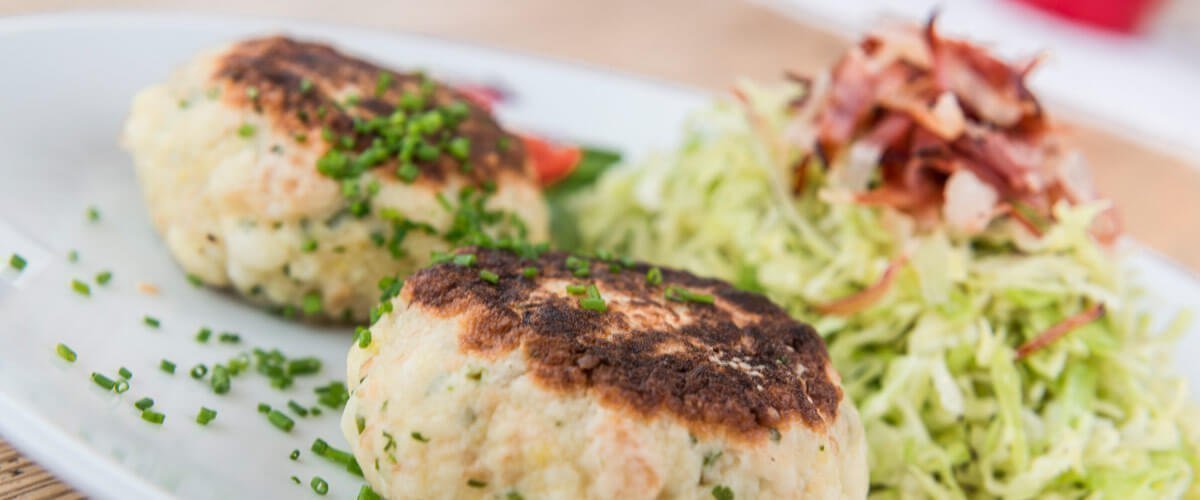 The culinary experience combined with a unique landscape experience is one of the greatest pleasures of the Kreuzwiesenalm for both holidaymakers and guests. Martha Hinteregger, the good soul and boss of the house, is a true kitchen artist and pampers her guests with homemade South Tyrolean specialties. Let us take a look at the pans and pots of our Kreuzwiese's kitchen. On the top of the list of ingredients is of course our own alpine cheese. You will taste the difference and in our variety-rich dishes you can really let this beautiful piece of earth melt on your tongue during your holiday.
As a full-bodied accompaniment to the pork and beef from the farm, you will enjoy an abundance of delicious vegetables such as leeks, zuchini, kohlrabi, savoy cabbage, blue kraut, beetroot and various salad varieties. In addition to the home made products, to the rest of the ingredients is also given a high value to completeness and regionality. And of course, we serve from the South Tyrolean dumpling specialties, over Mediterranean pasta to our desserts, exclusively homemade! Meals are served in the traditional guest-house, on the spacious terrace and on the dreamlike place next to the hut. The proximity of our family to the guests remains at all times noticeable.
Our alpine breakfast
for connoisseurs and active tourists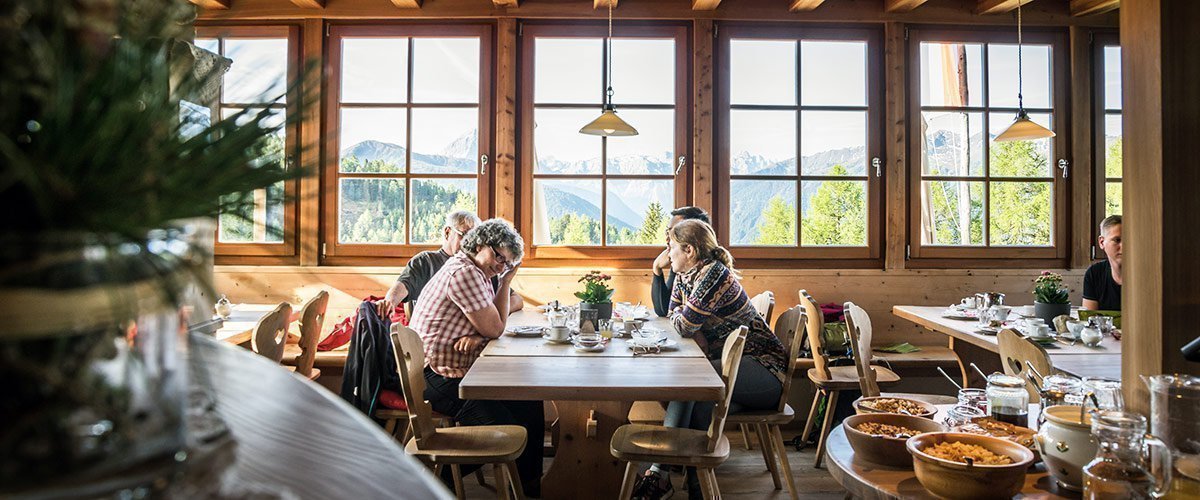 A rich breakfast is the best start to an active holiday on the Kreuzwiese / Lüsner Alm. Therefore, only selected products from the farm or the region come to your breakfast table. Among the tasty treats are, for example, homemade yoghurt, butter and farmer's cheese, delicious jam, fragrant bread from the Lüsner baker and honey from the farmer in the valley. The highlight of our breakfast table are, of course, our cheese varieties from day-fresh alpine milk, which we produce ourselves – so for every weekday a different delicate palate pleasure. Besides this, we offer you homemade juices, fresh milk, a hot coffee or tea.