Contact & Map
How to arrive
Kreuzwiese mountain hut
Lüsner Alm
39040 Luson
South Tyrol / Italy
Schutzhütte Kreuzwiesenalm
Arrival by car
Current traffic situation South Tyrol Traffic information –
Tel: 0039 0471 200198 Current weather condition South Tyrol
Attention at route planner / navigation:
Luson is always accessible via Bressanone
Distances on foot
Lüsen Flitt
parking spot Flitt (1400m): approx. 2 h
parking spot Oberflitt (1600m): approx. 1 ¼ h
parking spot Schweigerböden (1720m): approx. ¾ h
Zumis Rodenecker-Lüsner Alm ( 1700m): approx. 2 h
Herol- Lüsen Berg ( 1640m) : 1 ½ h
Ellen Parkplatz Kreuzner (1500m): approx. 2 h
Onach (1480m) : approx. 2 h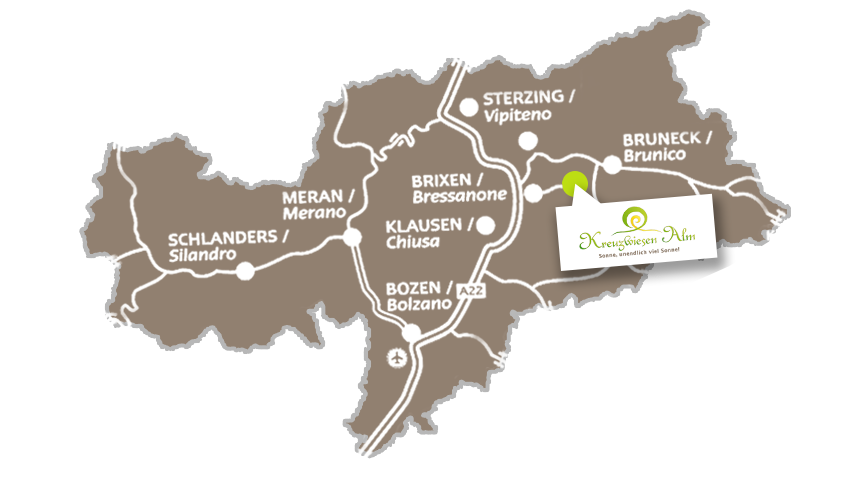 During the winter, the road is open until the parking lot Valletta di Sopra! Furthermore, the parking lot Tulper Gampis above Herol is open – from there, you walk about 1 ¼ hours to reach the Kreuzwiesenalm.
Arrival by bus
Flixbus (Remote Bus): "Flixbus" offers daily bus transfer from Berlin via Munich and Innsbruck to South Tyrol
SüdtirolBus: Up to 6 times a day from Innsbruck, Munich, Verona, Bergamo, Milan to South Tyrol
Arrival by airplane
Look for flights to Innsbruck, Verona, Munich, or Bergamo. Direct bus connection to South Tyrol by SüdtirolBus.